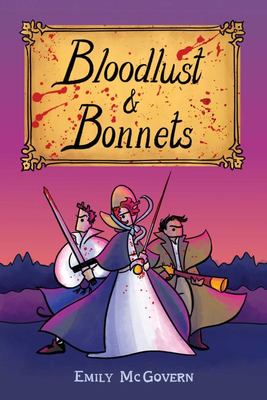 $7.99
AUD
$29.99
(73% off)
Category: Graphic Novels
From the creator of the hit webcomic My Life As a Background Slytherin comes a hilarious graphic novel pastiche of classic Romantic literature led by a trio of queer misfits--and several angry vampires.   Set in early nineteenth-century Britain, Bloodlust & Bonnets follows Lucy, an unworldly debuta nte who desires a life of passion and intrigue--qualities which earn her the attention of Lady Violet Travesty, the leader of a local vampire cult.    But before Lucy can embark on her new life of vampiric debauchery, she finds herself unexpectedly thrown together with the flamboyant poet Lord Byron ("from books!") and a mysterious bounty-hunter named Sham. The unlikely trio lie, flirt, fight, and manipulate each other as they make their way across Britain, disrupting society balls, slaying vampires, and making every effort not to betray their feelings to each other as their personal and romantic lives become increasingly entangled.   Both witty and slapstick, elegant and gory, Emily McGovern's debut graphic novel pays tribute to and pokes fun at beloved romance tropes, delivering a joyous, action-packed world of friendship and adventure. ...Show more
$17.99
AUD
Category: Graphic Novels | Series: Wings of Fire Graphic
The Wings of Fire saga continues with a thrilling underwater adventure--and a mystery that will change everything... The lost heir to the SeaWing throne is going home at last. She can't believe it's finally happening. Tsunami and her fellow dragonets of destiny are journeying under the water to the gr eat SeaWing Kingdom. Stolen as an egg from the royal hatchery, Tsunami is eager to meet her future subjects and reunite with her mother, Queen Coral. But Tsunami's triumphant return doesn't go quite the way she imagined. Queen Coral welcomes her with open wings, but a mysterious assassin has been killing off the queen's heirs for years, and Tsunami may be the next target. The dragonets came to the SeaWings for protection, but this ocean hides secrets, betrayal--and perhaps even death. ...Show more
$17.99
AUD
Category: Graphic Novels | Series: Wings of Fire Graphic Novel
The best-selling Wings of Fire series takes flight in this first graphic novel edition, adapted by the author with art by Mike Holmes. Clay has grown up under the mountain, chosen along with four other dragonets to fulfill a mysterious prophecy and end the war between the dragon tribes of Pyrrhia. So wh en one of the dragonets is threatened, all five spring into action. Together, they will choose freedom over fate, leave the mountain, and fulfill their destiny–on their own terms. ...Show more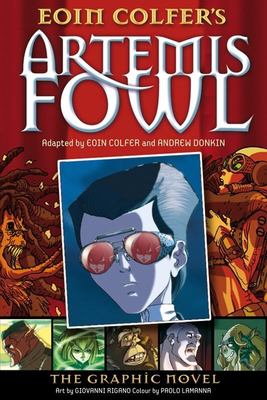 $26.99
AUD
Category: Graphic Novels | Series: Artemis Fowl Graphic
This adaptation of his genre-busting, award-winning novel Artemis Fowl has been a labour of love for lifelong graphic novel fan Eoin Colfer, and Andrew Donkin. Art by Giovanni Rigano and colour by Paolo Lamanna. Twelve-year-old Artemis Fowl is a brilliant criminal mastermind. But even Artemis doesn't kn ow what he's taken on when he kidnaps a fairy, Captain Holly Short of the LEPrecon Unit. These aren't the fairies of bedtime stories. These fairies are armed and they're dangerous. Artemis thinks he's got them just where he wants them, but then they stop playing by the rules ... ...Show more
$17.99
AUD
Category: Graphic Novels
In the shadows, trouble is brewing... When Starflight is stolen by his own tribe, he hopes to at least discover some of the long-held NightWing secretswhat magical powers they really have, who theyre allied with in the war, and where theyve been living all this time. But the truth about Starflights trib e is more terrible than he ever imagined: Not only do the NightWings live in a dark, miserable place, but theyve imprisoned several innocent RainWings there, too. Stranded and alone, Starflight only wants to get back to his friends. But the fate of two kingdoms now rests in his talons, and with no one to save him, Starflight will have to find a way to be brave... before its too late. ...Show more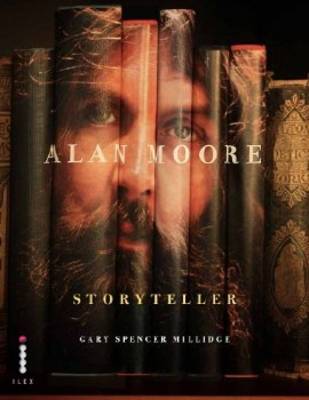 $29.99
AUD
$65.00
(53% off)
Category: Graphic Novels
"Alan Moore: Storyteller" is the first serious examination of the life, career and work of one of the UKs most distinctive and popular creative voices. It traces Moore's creative development from his modest contributions to Northampton Arts Lab fanzines and local newspaper strips to the very top of his field, writing some of the most widely read and critically acclaimed comics and graphic novels ever produced: "Swamp Thing", "Watchmen", "From Hell", "Lost Girls", "The League of Extraordinary Gentlemen" and "V for Vendetta". The book provides an unparalleled insight into the mind and work of this enigmatic and at times controversial creator. Moores extraordinary body of work is examined in depth, with rare and previously unseen material, glimpses into unfinished and abandoned projects and new light shed on overlooked masterpieces. With co-operation from Moore, and full access to his archives, Gary Spencer Millidge has written a book which will not only be essential reading for Moores many fans, but for anyone interested in contemporary literature and pop culture. ...Show more
$39.99
AUD
Category: Graphic Novels
The first volume of the graphic adaptation of Yuval Noah Harari's global phenomenon and smash Sunday Times #1 bestseller, with gorgeous full-colour illustrations and a beautiful package - the perfect gift for the curious beings in your life.One hundred thousand years ago, at least six different species of humans inhabited Earth. Yet today there is only one-homo sapiens. What happened to the others? And what may happen to us?In this first volume of the full-colour illustrated adaptation of his groundbreaking book, renowned historian Yuval Harari tells the story of humankind's creation and evolution, exploring the ways in which biology and history have defined us and enhanced our understanding of what it means to be "human". From examining the role evolving humans have played in the global ecosystem to charting the rise of empires, Sapiens challenges us to reconsider accepted beliefs, connect past developments with contemporary concerns, and view specific events within the context of larger ideas. Featuring 256 pages of full-colour illustrations and easy-to-understand text covering the first part of the full-length original edition, this adaptation of the mind-expanding book furthers the ongoing conversation as it introduces Harari's ideas to a wider new readership. ...Show more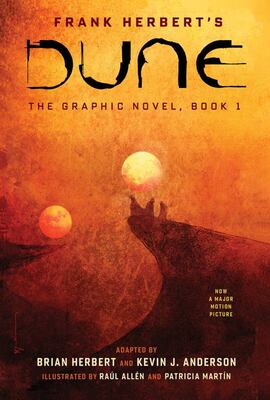 $35.00
AUD
Category: Graphic Novels | Series: Dune: the Graphic Novel
The definitive graphic novel adaptation of Dune, the groundbreaking science-fiction classic by Frank Herbert. Dune, Frank Herbert's epic science-fiction masterpiece set in the far future amidst a sprawling feudal interstellar society, tells the story of Paul Atreides as he and his family accept control of the desert planet Arrakis. A stunning blend of adventure and mysticism, environmentalism, and politics, Dune is a powerful, fanstastical tale that takes an unprecedented look into our universe, and is transformed by the graphic novel format. Brian Herbert and Kevin J. Anderson's adaptation retains the integrity of the original novel, and Raul Allen and Patricia Martin's magnificent illustrations, along with cover art by Bill Sienkiewicz, bring the book to life for a new generation of readers. Full-colour illustrations throughout. ...Show more
$18.99
AUD
Category: Graphic Novels | Series: Attack on Titan | Reading Level: General Adult
For one hundred years, what's left of mankind has lived in the city on earth, protected by walls that tower over ravenous giants known as the Titans. Untouched by the Titans for a century, humanity has become complacent. But Eren Jaeger has had had enough. While his fellow citizens are content to hide, Jaeger has the passion to take action to not only protect the city, but to learn what the Titans actually are. But on his first mission he comes face to face with horrors beyond his imagination and secrets from his own past that could shift the tides of war. ...Show more
$32.99
AUD
Category: Graphic Novels
With a new Netflix series, the best-selling graphic novels return--with the original creators   Gerard Way (My Chemical Romance, Doom Patrol) and Gabriel B (Two Brothers, Casanova) have earned awards and accolades on their separate projects, and finally return to their breakout 2007 hit, for the lates t chapter in the bizarre lives of their former teen superhero team.   Faced with an increasing number of lunatics with superpowers eager to fight his own wunderkind brood, Sir Reginald Hargreeves developed the ultimate solution ...   Now, just a few years after Hargreeves's death, his Umbrella Academy is scattered. Number Five is a hired gun, Kraken is stalking big game, Rumor is dealing with the wreckage of her marriage, an out-of-shape Spaceboy runs around the streets of Tokyo, Vanya continues her physical therapy after being shot in the head--and no one wants to even talk about what S ance is up to ...   The award-winning and best-selling superhero series returns, stranger than ever--And their past is coming back to hunt them. ...Show more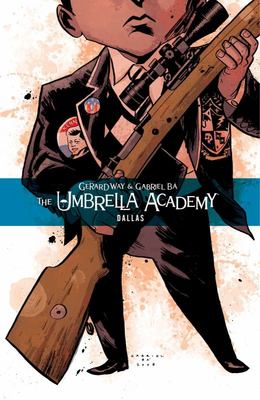 $32.99
AUD
Category: Graphic Novels | Series: Umbrella Academy Ser.
Following a near apocalypse created by one of their own, and the death of their beloved mentor Pogo , each member of the team is distracted by problems of their own. The White Violin is bedridden due to an unfortunate blow to the head. Rumor has lost her voice. Spaceboy has eaten himself into a near-cat atonic state, while Number Five dives into some shady dealings at the dog track and the Kraken starts looking at his littlest brother as the key to unraveling a plot to kill JFK! ...Show more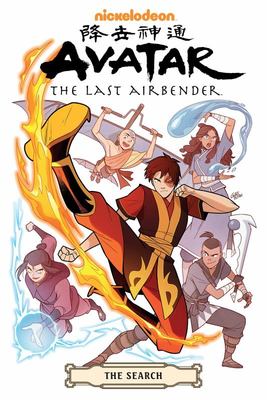 $44.99
AUD
Category: Graphic Novels
For years, fans of Avatar- The Last Airbender and The Legend of Korra have burned with one question-what happened to Fire Lord Zuko's mother? Finding a clue at last, Zuko enlists the aid of Team Avatar-and the most unlikely ally of all-to help uncover the biggest secret of his life.