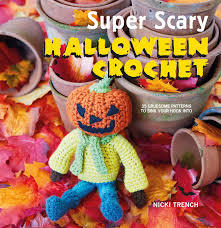 $7.99
AUD
$24.99
(68% off)
Category: Craft & Hobbies
Sink your hook into this brilliant collection of 35 Halloween toys and accessories. If you are bored with cute, sick of sweet, and prefer your patterns a little more on the dark side, you will love this gruesome and spooky collection of zombies, witches, aliens, and more. There are five chapters coverin g characters who have committed all kinds of unforgivable deeds. The first, Scary Families, has creepy relatives who definitely believe that blood is thicker than water. Try making the Queen of the Vampires, complete with felt crown and lace detailing, who is struggling to handle her out-of-control brood, or Mr Alien, who has just landed on Earth, looking to set up a new colony. In Famous Scaries meet classic characters like the Headless Horseman with crocheted blood spurting from his neck, and his horse Redeye, made in jet black yarn. The Invisible Man "appears" here as well, alongside other horror movie favorites such as Bigfoot. The Living Dead is a macabre mix of witches and ghouls, and the Deathly Companions chapter has murderous villains to stitch. As well as crocheting your own cast of scary toys, in Creepy Trinkets you'll find patterns for essential Halloween accessories, including spider web bunting and a fearsome wolf scarf. ...Show more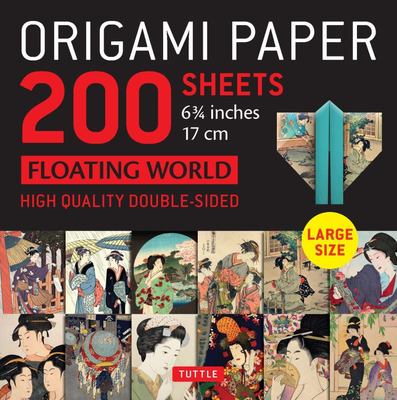 $19.99
AUD
Category: Craft & Hobbies
This pack contains 200 high-quality large (6.75 inch) origami sheets printed with traditional Floating World prints.   These vibrant origami papers were developed to enhance the creative work of origami artists and paper crafters. This paper pack contains 12 prints, and all of the papers have coordina ting colors on the reverse side to provide aesthetically pleasing combinations in origami models that show both the front and back. "Floating World" refers to Japan's traditional Geisha districts and the art and literary worlds associated with them.   This origami paper pack includes: 200 sheets of high-quality origami paper 12 unique designs Saturated colors Double-sided color 6.75 x 6.75 inch (17 cm) squares Step-by-step instructions for 6 easy-to-fold origami projects ...Show more

$19.99
AUD
$24.99
(20% off)
Category: Craft & Hobbies
This is the ultimate guide for origami fans of all ages, perfect for the millions of enthusiasts around the world. Making origami more accessible than ever, this bestselling book gradually moves through the world of origami: History and growth of the hobby; basic folding guidelines to master; types of p aper; fan clubs around the world and beautiful pieces to build across five sections, with each section slightly more challenging than the one before it. Includes simple step-by-step instructions and 24 sheets of origami paper. You'll be amazed at your own great origami figures as you master the simple steps. Have fun folding and learning! ...Show more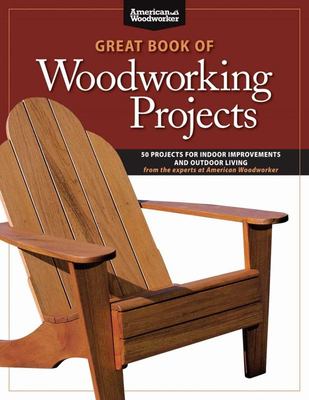 $35.00
AUD
Category: Craft & Hobbies
The books in the Best of American Woodworker Series include superb collections of the best projects from the archives of American Woodworker magazine. Each book includes updated information featuring the latest tools, technologies, and techniques for woodworking success. They include step-by-step instru ctions, exploded diagrams, cutting lists, and everything a craftsman needs to make beautiful furniture, cabinets, accessories, and heirlooms. This book is an ideal resource for woodworkers looking for a new project or wanting to spruce up their home, this book has plans for 50 projects that can take a few hours or up to a weekend to complete. ...Show more
$35.00
AUD
Category: Craft & Hobbies | Series: American Woodworker (Paperback)
World's biggest collection of reader-written, shop-tested, photo-illustrated woodworking tips and techniques. One, two or three to a page. 730 total, more available in recent issues.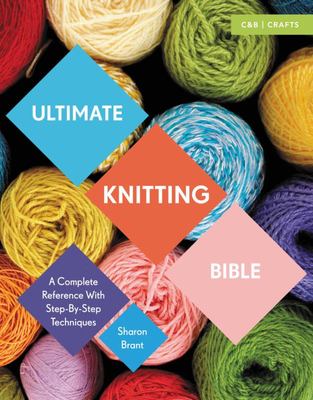 $34.99
AUD
Category: Knitting & Crochet | Series: Ultimate Guides
Now available in paperback, this best-selling title is THE essential guide to knitting. Whether you want to knit socks, use sequins and embroidery to embellish knitting, adapt a pattern to fit you beautifully or produce the perfect pocket, you can find out how to do it here. A comprehensive chapter on f inishing your projects shows you how to get that really professional look and if you do make a mistake, just flip to the 'Troubleshooting' chapter to see how to fix it. Each chapter of this essential guide is devoted to one key area of knitting and provides clear and concise in-depth instructions along with step-by-step instructions for basic principles and more advanced techniques. Learn the basic knit and purl stitches, along with cast ons and cast offs, and in no time you will also be increasing and decreasing with ease. Once you're comfortable with the basic stitches, explore structure and shaping, texture, colourwork, embellishments, finishing and learn how to design and adapt patterns. This comprehensive guide offers a useful section on crochet for knitting, a glossary of terms, clear instructions and hundreds of illustrations and diagrams showing each stage of the process. It'll be the one resource that you will turn to time and time again. Over 20,000 copies sold worldwide. ...Show more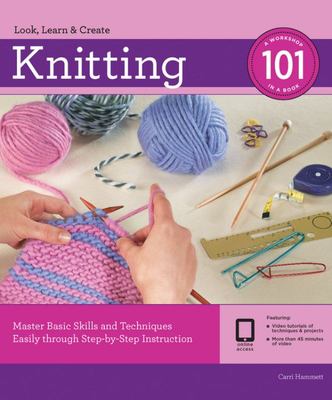 $29.99
AUD
Category: Knitting & Crochet | Series: 101 Ser.
Written with the absolute beginner in mind, this book teaches all the basics for learning to knit with step-by-step instructions and photographs. Knitting skills are learned by working on projects, beginning with something very easy and getting progressively more difficult as the reader works through th e book. New skills are explored in depth as they are introduced. The introductory section covers all the basics of knitting-including selecting yarn, needle types and sizes, other tools and accessories, knitting gauge, casting on, forming stitches and reading patterns-making this the most comprehensive beginner's book available. The accompanying DVD includes a how-to video illustrating all the knitting techniques used to knit the projects. ...Show more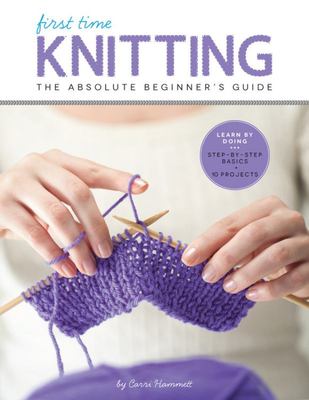 $24.99
AUD
Category: Knitting & Crochet | Series: First Time Ser.
Learning how to knit has never been simpler! Enjoy this beginner's guide that takes you by the hand like a personal instructor and teaches you how to knit. Filled with detailed descriptions of materials and tools, the easy step-by-step instructions for all the basic knitting techniques will have you cre ating projects like scarves, hats, and blankets in no time. Eight simple projects will introduce knitting skills like garter stitch, stockinette, knitted texture, and color techniques; skills you will use often as you continue to learn. With First Time Knitting, soon you will be knitting amazing gifts and projects with confidence. ...Show more
$29.99
AUD
Category: Knitting & Crochet
Your essential crochet reference for stitches, techniques, and yarns.   Follow clear step-by-step photographs and instructions for over 100 key techniques and stitches.   Experiment with different yarns and color combinations for impressive results.   Learn how to read crochet patterns and be insp ired by 20 easy projects. ...Show more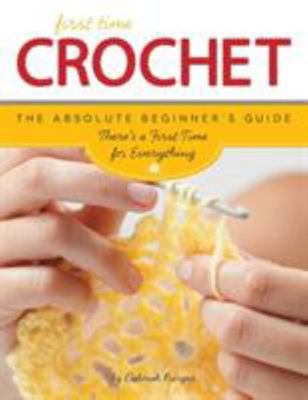 $24.99
AUD
Category: Knitting & Crochet | Series: First Time Ser.
Learning how to crochet has never been simpler Enjoy this beginner's guide that takes you by the hand, like a personal instructor, and teaches you how to crochet. With detailed descriptions of materials and tools, the easy step-by-step instructions for all the basic crocheting techniques will have you creating projects like boas, coasters, and even slippers and bags in no time. Eight simple projects will introduce crocheting skills like basic stitches, chaining, increasing and decreasing, and color techniques; skills you will use often as you continue to learn. With First Time Crochet, soon you will be stitching amazing gifts and projects with confidence. ...Show more
$34.99
AUD
Category: Knitting & Crochet | Series: Ultimate Guides
Now available in paperback, this best-selling title is THE essential guide to crochet. Ultimate Crochet Bible is a definitive reference for all aspects of crochet - from the first chain to the care and maintenance of your projects. The first two chapters are packed with useful information such as choosi ng and using a hook, how to read a pattern, holding the yarn and basic stitches. Once you are armed with the basics, you can go on to learn about a wide range of techniques. Traditional, lace-weight crochet is covered in the Thread Crochet section. The yarn used tends to be fine and the hooks are small, but this allows you to put more detail into a piece of work. Filet and Irish crochet are covered here. The section on Tunisian and Entrelac Crochet shows how elements of crochet and knitting can be combined. Entrelac is a method of creating square shapes in order to make a textured fabric that resembles basket weave. In Working with Colour, the two main techniques of adding colour to a piece of crochet - Intarsia and Jacquard - are explained. And to create some really exciting effects, you can add beads and sequins to your crochet. It's a relatively easy technique. In addition, there are techniques for edgings, braids, fringes and tassels. Professional Finishing Techniques provides all the know-how you need to take your crochet to a whole new level. But whatever your level of experience, this book will be an invaluable treasure trove of crochet techniques that you will turn to time and time again. Over 35,000 copies sold worldwide. ...Show more
$39.99
AUD
Category: Knitting & Crochet
InCrochet Every Way Stitch Dictionary, designer Dora Ohrenstein does what no crochet author has done before: She offers detailed instructions for how to create 125 stitch patterns, plus she explains how to increase and decrease each stitch pattern in three different ways-without shaping, with shaping at the edges, and with internal shaping. This hefty collection, ranging from lace and filigree to shells and textured stitches, is loaded with beautifully photographed swatches of each pattern, plus charted and text instructions. A focus on the ins and outs of shaping makes working stitch patterns far more accessible and allows the creative crocheter to make many items without a pattern.Crochet Every Way Stitch Dictionarywill become an invaluable go-to resource that's sure to inspire legions of crocheters to use stitch patterns in new and exciting ways. ...Show more