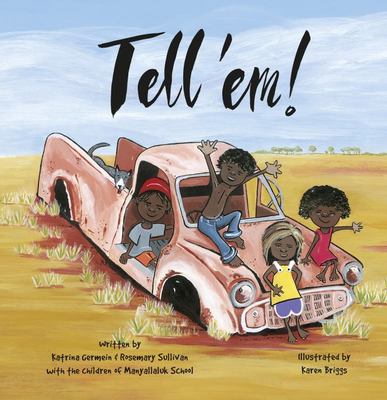 Tell 'Em
by Katrina Germein; R. Sullivan; Karen Briggs (Illustrator)
$24.99
AUD
Category: Picture Books
A JOYOUS AND EXUBERANT PICTURE BOOK ABOUT LIFE IN A REMOTE COMMUNITY Tell 'em how us kids like to play. We got bikes and give each other rides. Tell 'em about the dancing and singing, And all the stories the old people know. In this book, written in conjunction with children from Manyallaluk School in t he Roper River region in the NT, the voices of Indigenous children sing out across the land to tell us about their life in a remote community. ...Show more
$16.99
AUD
Category: Teen & Young Adult
 A runaway, a baby and a whole lot of questions... Lissa is home on her own after school one afternoon when a stranger turns up on the doorstep carrying a baby. Reed is on the run - surely people are looking for him? He's trying to find out who he really is and thinks Lissa's mum might have some answers . But how could he be connected to Lissa's family - and why has he been left in charge of a baby? A baby who is sick, and getting sicker ... Reed's appearance stirs up untold histories in Lissa's family, and suddenly she is having to make sense of her past in a way she would never have imagined. Meanwhile, her brother is dealing with a devastating secret of his own. A beautiful and timely coming-of-age story about finding out who you are in the face of crisis and change. Praise for Jane Godwin: 'refreshingly unpredictable, bold and refuses to minimise the complex lives of [its] characters' - Saturday Age on As Happy as Here 'an empathetic exploration of family, friendship and how all our actions have consequences' - Readings Monthly 'gentle, well-written and thoroughly engaging' - Adelaide Advertiser Jane Godwin is the highly acclaimed and internationally published author of many books for children and young people, across all styles and ages. Children's Publisher at Penguin Books Australia for many years, Jane was the co-creator with Davina Bell of the Our Australian Girl series of quality historical fiction for middle readers. Jane's books include her novels Falling From Grace and As Happy as Here (a CBCA Notable Book), and picture books Go Go and the Silver Shoes (illustrated by Anna Walker), The Silver Sea (with Alison Lester and patients at the Royal Children's Hospital, Melbourne) and Watch This! (with designer Beci Orpin and photographer Hilary Walker). Jane is dedicated to pursuing quality and enriching reading and writing experiences for young people, and spends as much time as she can working with them in schools and communities and running literature and writing programs. janegodwin.com.au   ...Show more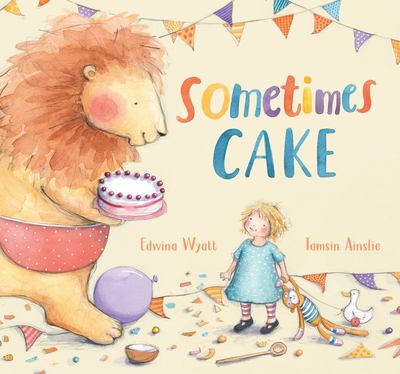 Sometimes Cake
by Edwina Wyatt; Tamsin Ainslie
$24.99
AUD
Category: Picture Books
Christopher Robin had Pooh. Calvin had Hobbes. Audrey has Lion. This is the story of two friends learning the joy of celebrating the every day because sometimes it's important to enjoy things like Tuesdays, coconuts, orange, purple, and lions.  
$14.99
AUD
Category: Children's Fiction | Series: Rise of the Mythix
What happens when three ordinary teenagers discover they are destined to be … the Unicorn, the Minotaur, the Griffin? The minotaur will be recognised by his strength. Kelly doesn't believe in ancient prophecies. Then again, up until recently, she also didn't believe a horn could grow out of her forehead . Now the Collector is holding her mother hostage, and if Kelly wants to rescue her she needs to learn how to wield all the powers of the Unicorn. She also needs some help. She needs to find... the Minotaur. Minh knows something epic is going on. For the last year, he has been getting stronger and stronger. He can pull a plough as well as any horse. He can lift cars. But he has no idea that this is just the beginning... Kelly and Minh will need to help each other if they are to have any hope of bringing down the Collector and rescuing the people they love. ...Show more
$15.99
AUD
Category: Teen & Young Adult | Series: Wolf Girl
A wildly exciting adventure series from bestselling author Anh Do. Gwen has been searching for her family for a long time. Just when she feels she is close, the soldiers following her start to close in. Then one of her dogs is injured, and the gang must slow down...Who can Gwen trust? And how will she k eep her pack safe from dangerous enemies? Does this spell disaster for the one and only Wolf Girl? ...Show more
$14.99
AUD
Category: Children's Fiction | Series: Funny Kid
Every kid wants to laugh, but Max is the boy who can make it happen. He's not the smartest kid; he's not the fastest kid; he's not the prettiest kid; but he might just be the funniest kid you've ever met. Max and his friends take a road trip to Adventure Park to dare each other to ride The Tower of Dyin g Deathly Doom. But it may be Duck who is the bravest one of all. FUNNY KID is the mega-bestselling series from author-illustrator Matt Stanton that's got everyone laughing!    ...Show more
$16.99
AUD
Category: Children's Fiction | Series: The Questioneers
Rosie Revere is no stranger to flops and fails, kerfuffles and catastrophes. After all, she' s an engineer, and engineering is all about perseverance But sometimes, Rosie has a really important project to tackle' one that feels much bigger than herself. When Rosie' s beloved Aunt Rose and her pals the R aucous Riveters' a gaggle of fun-loving gals who built airplanes during World War II' need her help, it' s up to Rosie to save the day. Will Rosie be able to invent a contraption to help one of the Riveters paint in the annual mural competition? After one flop...then another...and another...Rosie starts to lose hope. But thanks to some help from her classmates Iggy Peck and Ada Twist, Rosie creates the Paintapolooza and, along with the Riveters, rediscovers the meaning of home. ...Show more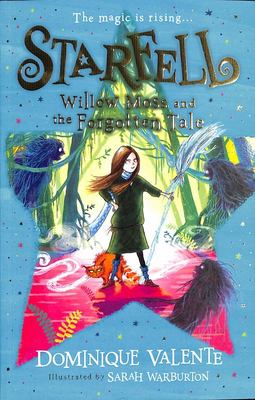 $16.99
AUD
Category: Children's Fiction | Series: Starfell
The anticipated second book in the breakout magical fantasy series, Starfell, starring misfit witch Willow Moss. Perfect for readers of 8+ and beautifully illustrated throughout by Sarah Warburton. Willow Moss, the youngest and least powerful sister in a family of witches, recently saved the world. The problem is, nobody can remember it - and, to make matters worse, her magical ability seems broken. Instead of finding lost things, objects keep disappearing against her will ... which is especially troubling now that her friend Sometimes needs her help! Sometimes has discovered how to see ten minutes into the future. Unfortunately that's only enough time to find out that his kidnappers are on their way! His only hope is to write an urgent letter to Willow, asking if she wouldn't mind trying to find him. As Willow and her friends piece together what has happened to Sometimes, their adventure takes them from an enchanted tower to the magical forest of Wisperia and into dangerous new realms... Can Willow save Sometimes when her own powers are out of control?   ...Show more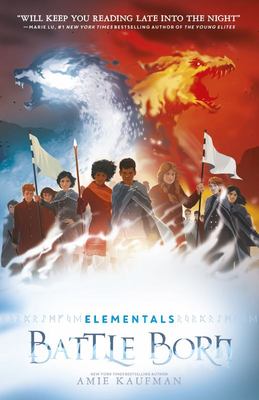 $17.99
AUD
Category: Teen & Young Adult | Series: Elementals Ser.
Though Anders and his friends have delayed a war between ice wolves and scorch dragons, their mission is far from over. With adults on both sides looking for them, they've sought refuge in Cloudhaven, a forbidden stronghold that could hold the key to saving their home.Meanwhile, Holbard has been ravaged , and its citizens are reeling. Many have been forced into bleak camps outside the city, and food is running short.To rebuild Vallen and unite scorch dragons, ice wolves, and humans, Anders and Rayna must put everything on the line…before the damage done is beyond repair. But the price of peace may hit closer to home than they could've ever imagined. ...Show more
$17.99
AUD
Category: Children's Fiction | Series: The Questioneers
You loved the bestselling picture books starring Rosie Revere, Ada Twist, and Iggy Peck. Now you can follow their further adventures in a BRAND-NEW chapter book series, The Questioneers Don't miss the first instant New York Times bestselling volume, Rosie Revere and the Raucous Riveters--available now. In this new chapter-book adventure, Ada must rely on her curious mind, her brave spirit, and her best pals Rosie Revere and Iggy Peck to solve a mystery in her own backyard. Ada Twist is full of questions. A scientist to her very core, Ada asks why again and again. One question always leads to another until she's off on a journey of discovery When Rosie Revere's Uncle Ned gets a little carried away wearing his famous helium pants, it's up to Ada and friends to chase him down. As Uncle Ned floats farther and farther away, Ada starts asking lots of questions: How high can a balloon float? Is it possible for Uncle Ned to float into outer space? And what's the best plan for getting him down? Collect them all Add these other STEM favorites from #1 New York Times bestselling team Andrea Beaty and David Roberts to your family library today Rosie Revere, EngineerAda Twist, ScientistIggy Peck, ArchitectRosie Revere and the Raucous Riveters Ada Twist's Big Project Book for Stellar ScientistsIggy Peck's Big Project Book for Amazing ArchitectsRosie Revere's Big Project Book for Bold Engineers ...Show more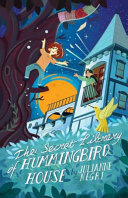 $16.99
AUD
Category: Children's Fiction
Hattie Maxwell is trying to make sense of her life since the Big Split. It used to be the four of them - Mum, Dad, Ivy and Hattie - against the universe. But now it feels like she's a lone star in a big galaxy. And to make matters worse, her favourite place, Hummingbird House, is going to be demolished! Determined to stop the development, Hattie throws herself into uncovering the secrets of the house. Under a special full moon, she discovers that there is much more to the grand old mansion than first meets the eye... But will it be enough to save Hummingbird House? Or her family? A classic time-slip novel with a contemporary twist, THE SECRET LIBRARY OF HUMMINGBIRD HOUSE celebrates standing up for what you believe in, dealing with change and the unstoppable power of friendship. ...Show more
$16.99
AUD
Category: Children's Fiction | Series: The Strangeworlds Travel Agency
Pack your suitcase for a magical adventure! Perfect for fans of The Train to Impossible Places and The Polar Bear Explorers' Club. At the Strangeworlds Travel Agency, each suitcase transports you to a different world. All you have to do is step inside . . . When 12-year-old Flick Hudson accidentally end s up in the Strangeworlds Travel Agency, she uncovers a fantastic secret: there are hundreds of other worlds just steps away from ours. All you have to do to visit them is jump into the right suitcase. Then Flick gets the invitation of a lifetime: join Strangeworlds' magical travel society and explore other worlds. But, unknown to Flick, the world at the very centre of it all, a city called Five Lights, is in danger. Buildings and even streets are mysteriously disappearing. Once Flick realizes what's happening she must race against time, travelling through unchartered worlds, seeking a way to fix Five Lights before it collapses into nothingness - and takes our world with it. A magical adventure for 9+ readers that will take you to whole new worlds.   ...Show more